Acting is a competitive field with many ups and downs. To a certain extent this industry is about presentation, appearance, and stacking the odds in your favor anyway you possibly can. The saying "fake it til you make it" comes to mind. Being a professional actor is unique, the brand is not a product or service per se; the brand is you. There are tools and systems you can set in place to increase exposure and have an edge over your competition. Part of being a successful actor is being a successful self-promoter and developing a business mindset.
Having these 5 things will put you ahead of 90% of your competition:
1. Website
As a producer, its alarming to me how many actors (even well-known) don't have a website at all. Many who do have a site, haven't updated it in a long time and the aesthetics echo the sentiment. A website is an actors home base, a portfolio of all the great work they have achieved. It should be a living resume that fans and potential employers can go to see how you shine. Think of it as your brands "audition" for people who have never personally watched you perform. A website can also display a level of importance and how serious you take your work.
Actors are busy trying to book auditions and get work, so a website may seem like a daunting task to take on. The important thing is to just get something up. Something is better than nothing. Odds are you know someone dabbling in web design, and if not, there are many platforms you can use to build a website without using code at all.
It can be overwhelming to know where to start, so I have highlighted some things below to help you get up and running. I also always recommend building your own site so you can update it without waiting for a developer. Also, developers are expensive and can hold your site somewhat hostage. It's worth it to struggle a bit and teach yourself how to build it.
If you are building your own site, I recommend:
For website hosting, we recommend Bluehost 
For Domains, we recommend Godaddy
For Web Platform we recommend WordPress which is available as a package with Bluehost
Wix is also recommended. It's a user-friendly drag and drop builder that requires no coding or development experience. WordPress doesn't require coding, but has more of a learning curve than the others. WordPress powers a large percentage of the sites online and is definitely a standard you should shoot for eventually.
2. Professional Resume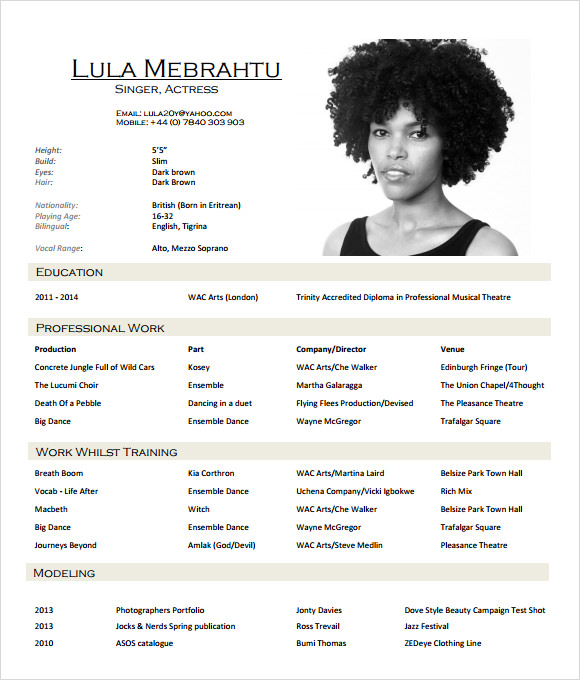 Auditioning and getting professional acting work is hard, so give casting directors every single reason possible to hire you. Present them with a clean, organized, and professionally put together resume of work. Don't use crazy fonts or write short novels about each credit you list. Make it visually easy for directors to look at. Similar to a website, this is a birds eye view of how and why you may be qualified to get the part. Remember, it should only be 1 page that highlights your best work.
Resume format depends on certain factors, for a SAG example, GO HERE
Tip: Take the time to update your resume frequently. After you finish a job, add it on to avoid gaps between work.
Bonus: How To Write An Eye-Catching Acting Resume
3. Professional Headshots
Needless to say, looks and appearance are a big deal in the acting industry. A professional headshot is one of the best things you can have to give you an advantage at casting. Sorry folks, a great Instagram with a "sweet" filter does not cut it. A headshot should be viewed as an investment in your career; it's a business expense. They are expensive and they are necessary, no way around it.
Casting directors will see dozens of people; don't count on them to remember everything you did at auditions. When they review your resume and headshot for consideration, this is your chance to immediately tell them you are a professional and invest in your craft.
Bonus: 9 Hacks For Cheaper Headshots
4. Social Media Presence
Social media is an amazing way to get your brand and work out to people immediately. The more fans and followers we have, the more appealing we will be when it comes to being cast in a show. Why? Because producers are taking a risk and putting money into a show, so the pressure is on to sell tickets. With acting, our jobs only last as long as the run of the show, so we need to take steps to build our own unique audience. If we do, we can alert our loyal followers of the next project and immediately fill the seats, thus increasing exposure for the show. Take a look at Jeremy Jordan's twitter account; he has 107,000 followers. (AKA free advertising platform)
Besides selling tickets and getting work, fans love to see what you are up to. Acting is an exciting life full of intrigue for those in other fields. They are hungry to hear about your experiences as a professional.
Tip: Don't feel pressure to be on every social media platform, try picking one to focus on and be consistent with. I'd recommend Twitter or Instagram. Post often, even when it seems there is not much to post about. People are interested in your routines and love to hear about the little details.
Bonus: 5 Broadway Stars Who Are Crushing Twitter
5. Business Cards
I know what you're thinking, why carry around these old dinosaurs in our pockets in 2017? The answer is you never know whom you will meet and where you will meet them. Connections and relationships are 9/10 of the theatre industry law, so be prepared at any given moment. If you meet a big time casting director or producer at a mixer or at the local Starbucks, giving them a business card can be your foot in the door, a way to leave a lasting mark with them on their busy day. It's not a great feeling when someone asks you for a card and you don't have one, I've been there before. You may not need them often, but you will thank the lucky stars when the time comes.
Tip: VistaPrint makes it easy to design your own business cards
Think of something else or have questions? I'd love to hear from you, just leave a reply below…