It's that time again! Summer is preparing to take its final bows and make way for Autumn to take the stage. Which means it's time to prepare for your role reprisal as you return to the halls and classrooms of your high school/college. And what better place to look for style inspirations than the stages of Broadway and the West End?
Here are a few back to school pieces inspired by the stage:
Hamilton
Let everyone know you are not throwing away your shot by giving your look some revolutionary flare with a military inspired jacket. Or decorate your room or new dorm Founding Fathers style with some patriotic accessories.
Macy's In Awe of You by Awesomeness TV Juniors' Military-Style Blaze
Urban Outfitters Large American Flag Tapestry
Her Shot Tote Bag (from right here at our Theatre Nerds Swag Shop)
Harry Potter and the Cursed Child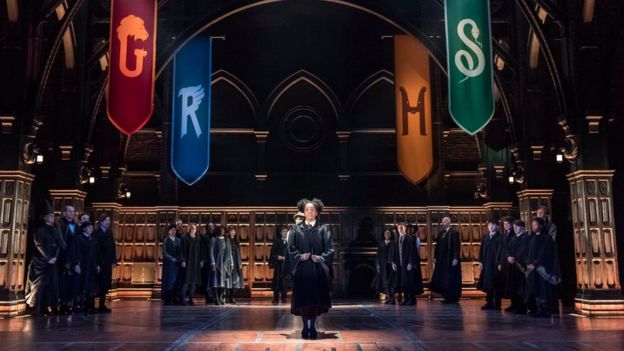 Potter fever has returned with the release of the new stage show on the West End. While we all wish Hogwarts were a real school (I don't remember them ever having to take Calculus) we can bring a little of Hogwarts to the muggle world. So break out your house colors and keep your pumpkin juice fresh.
Barnes & Noble Harry Potter Marauder's Map Insulated Tumbler 24 oz
Hot Topic Harry Potter Varsity Hoodie
An American in Paris
Paris is always a good idea, both for musicals and style. Try a Parisian chic look or some ballet inspired apparel as you head back into the halls of academia.
Urban Outfitters Kimchi Blue Elastic Cross-Strap Flat
Rifle Paper Co. I Love Paris Everyday Iphone 6 Clear Case
School of Rock
Get ready to fight the man and pledge your loyalty to the band. Show that you've done your music homework as you prepare for your school's Battle of the Bands with these rock inspired pieces.
Hot Topic Pink Floyd The Dark Side of the Moon Tour T-Shirt
ModCloth Be With You in a Spinet Bag
Romeo and Juliet
I just couldn't leave out The Bard, especially with Kenneth Branagh's version of the beloved Shakespearean classic wrapping up it's run in the West End. Float through the halls of your school like a dreamy Juliet or join the King's Players as you brush up on your Elizabethan vocabulary.  
Kathleen White Floral Maxi Dress
ModCloth A Man for All Elizabethans Men's Tee
Prepare your monologues and brush up for your fall production auditions as you head back to school, daydreaming about the theatre and the city that never sleeps.
Have an item to add to the list? Leave a reply below…