David Merrick, sometimes referred to as the "Abominable Showman," was a tyrant, a scoundrel and an absolute genius. One of the most prolific producers the theatre has ever known, Merrick was responsible for bringing to Broadway shows such as "Fanny" (1954), "Gypsy (1959), "Carnival!" (1961), "Oliver!" (1963), "Hello, Dolly!" (1964), "Promises, Promises" (1968), "Mack & Mabel" (1974), "42nd Street" (1980) and "State Fair" (1996), among many others.
In 1960, Merrick had 11 shows playing on Broadway, an astounding feat. All in all, 31 of Merrick's productions were nominated for Best Play/Musical/Revival, with seven of those shows taking home the statue. When the Tony's had a category for Best Producer of a Play/Musical, Merrick was nominated six times, won twice and won a special Tony Award in 1961 for "recognition of a fabulous production record over the last seven years" and another special Tony Award in 1968.
So, what made Merrick so different from other producers of the time? It certainly wasn't his sunny disposition. His office above the St. James Theater was painted completely in a particular shade of red so that anyone coming to meet with him felt as though they were entering Hell. Merrick also made sure his desk was extra large and his guest chairs were slightly on the smaller side, so guests felt like they were cowering before the devil himself. One of his personal mottos was, "It's not enough that I should succeed; others should fail." As you may have guessed, Merrick believed strongly in getting the best of out of people using unbridled fear. He would threaten, berate and bring in replacements at the drop of a hat, all solely to scare people into working harder and faster.
As his famous nickname states, he was abominable. But, he was also a master showman. Merrick would stop at nothing to promote his shows, using every conventional method available. And when those didn't work, Merrick employed one of his greatest skills, one that truly set him apart from the crowd: the publicity stunt.
Here is a look at six of Merrick's most famous (and infamous) stunts:
1. "Paging Mr. Clutterbuck"
One of the first shows Merrick produced on Broadway was a 1949 comedy called "Clutterbuck." To generate ticket sales, he had the brilliant idea of going to almost every hotel lobby, swanky bar and social club in Manhattan during peak hours and have a "Mr. Clutterbuck" constantly paged. Soon, everyone wondered who this Clutterbuck fellow was, and it helped the show run many months longer than it would have.
2. "Have You Seen Fanny?"
Merrick's first big musical was "Fanny," a musical version of the "Fanny"/"Marius"/"César" trilogy by Marcel Pagnol, with a score by Harold Rome and a book by Joshua Logan and S.N. Behrman. Being his first show with his name solely above the title meant a lot to Merrick, and he was determined to have a hit, no matter what. Here are a few of the stunts Merrick pulled (or tried to pull) to promote "Fanny."
Merrick petitioned to have the next major hurricane to hit the East Coast named "Fanny." He was informed that the names were all determined ahead of time at the annual meeting of the U.S. Weather Bureaus and that they could not grant the request. He was, however, invited to the following year's meeting, which he obviously publicized heavily.
For several years, there was an ad for Bond Clothing Stores in Times Square that contained an actual 27-feet-high, 120-feet-log, 50,000-gallon waterfall. It was a stunning display and sat directly across from Astor Hotel. Merrick had the idea of renting a room at the hotel and using a projector to project a giant ad for "Fanny" across the water cascading down the waterfall. Shortly after he'd begun his nightly stunt, Merrick made the mistake of inquiring about the hotel room's wiring, which caused the management to become suspicious. Once the operation was discovered, Merrick and his men were ejected from the hotel.
Merrick had stickers placed in all the men's rooms across the city with the slightly dirty-sounding phrase, "Have You Seen Fanny?"
At the wedding of Grace Kelly to the Prince of Monaco (one of the biggest celebrity events of the 20th century), Merrick had an ad for "Fanny" written across the sky using skywriting.
3. "The Nude"
In another ploy to publicize "Fanny," Merrick made sure to cast famed belly dancer and gossip columnist sweetheart Nejla Ateş in a bit part in the chorus, though she appeared onstage for only about a minute. However, Merrick had a grander scheme in mind. He commissioned a sculptor to sculpt a nude statue of the dancer, which he then had installed in Central Park's Poet Corner very late in the night. Early the next morning, he placed anonymous phone calls to both the police and press complaining about the vulgar statue. Sure enough, the statue and its removal caused quite a stir. Merrick also had an almost 12-foot photo of Ateş installed on the outside of the theater, causing several traffic jams as men would slow down to ogle the giant dancer. All the publicity helped "Fanny" play at the Majestic Theater for 888 performances.
4. "7 Out of 7"
One of the most legendary and brilliant (or devious, depending on whom you ask) stunts ever pulled by Merrick was the infamous newspaper ad for the musical, "Subways Are for Sleeping" in 1961. The musical, with a score by Jule Styne, Betty Comden and Adolph Green and starring Orson Bean, Sydney Chaplin, Carol Lawrence and Phyllis Newman, had opened at the St. James Theater to disappointing reviews. Ticket sales were slow and getting slower. The New York City Transit Authority had already put the kibosh on Merrick's plans to flood the subway system with ads, fearing large signs reading "Subways Are for Sleeping" would essentially give permission to any homeless person to set up camp in the subway stations.
Merrick knew he needed to do something big to save the show, and he had just the plan. He scoured the country for seven people with the same names as the seven top New York theatre critics, such as Walter Kerr, Howard Taubman and Richard Watts. He then flew them all out to New York, wined and dined them, gave them prime seats to the show and then presented them with pre-made statements gushing over the show and asked if they agreed, which they happily did. Merrick then took out a large ad in the New York papers that body claimed that "7 Out Of 7 Are Ecstatically Unanimous About Subways Are For Sleeping." The ad then had quotes from the "seven" gushing about the show, saying things like, "What a Show! What a Hit!" and "Subways Are For Sleeping is the Best Musical of this Century!"
As not to be accused of any wrongdoing, Merrick included a picture of the person attributed to each quote, knowing full well that most people would have no idea what the top seven critics actually looked like. However, the major newspapers did, and refused to run the ad, except for the Herald Tribune, which didn't catch onto the ruse until a later edition. Merrick confessed later that he had that idea in his back pocket for many years but had to wait until critic Brooks Atkinson retired, as Merrick could never find anyone with that exact name.
5. "Holding the Curtain"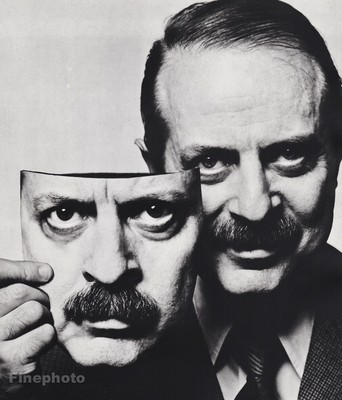 By 1987, the musical "42nd Street" had been running for seven years and was losing steam. The show moved to the St. James Theater after being forced out of its second home, the Majestic Theater, to make way for the mega-hit "The Phantom of the Opera." (Merrick would, of course, capitalize on this by having news cameras film the "42nd Street" cast, in full costume, tap dancing out of the Majestic and across the street into the St. James. Always a showman!)
When Merrick saw the throngs of tourists struggling to get tickets to the monster hit, he devised another scheme to make profit. He changed the starting times for "42nd Street" from 8 p.m. to 8:15 p.m. and from 2 p.m. to 2:15 p.m. on matinee days. He then had ads all over stating, "David Merrick is holding the curtain for YOU." The idea was that anyone who was turned away from "Phantom" could still have time to walk across the street to catch "42nd Street."
6. "It Is Tragic…"
Merrick worked with famed director/choreographer Gower Champion on seven shows, including "Carnival!" "Hello, Dolly!" and "42nd Street," which would be Champion's final show. On Aug. 25, 1980, the day of "42nd Street's" opening night, Merrick got a call that Champion was in the hospital and was not doing well (he had been diagnosed with a rare blood cancer in 1979). A small group of doctors and family (as well as Merrick) were there when Champion passed away at 1 p.m. Wanting to protect his opening night and milk the situation for all he could get, Merrick sprang into action. He immediately swore the family and doctors to secrecy about the death and called the full company into rehearsals for the entire day to insulate them from any possible rumors. The plan worked, and the opening night of "42nd Street" went off without a hitch.
As the cast took their bows to thunderous applause, Merrick took to the stage, his face sullen. When he spoke, he said, "It's tragic," to which the cast and audience laughed, believing this to be a joke after the triumphant performance. Merrick them told of the passing of Champion to the suddenly heartbroken cast, gasping audience and all the TV cameras Merrick made sure were in the back of the house to capture the moment for all of America to see. The show's star (and Champion's girlfriend) Wanda Richert buried her head, sobbing into cast member Jerry Orbach's chest as he called for the curtain to be lowered as the crowd was left dumbstruck.
The horrendous stunt worked, and the immense publicity ensured the show had a long and profitable run. To many, though, it was inexcusable. To add insult to injury, shortly after the the show's opening and Champion's death, all the promotional material for the show was changed from "Gower Champion's 42nd Street" to "David Merrick's 42nd Street." Years later, when Richert confronted Merrick about the opening night incident and asked if he knew how crass it was, Merrick said that he did but that he "couldn't help himself."
What do you think of David Merrick's tactics? Have you ever been part of a publicity stunt? Let us know in the comments below…