Last year saw more live television musicals than ever before. Before the year was even over, NBC announced its next live production of "Bye Bye Birdie" with Jennifer Lopez in the starring role. Audiences were left wondering whether Fox would follow suit, having produced two television musical specials this past year.
Here are the musicals we think should be live-television spectaculars:
1. "In the Heights"
Lin-Manuel Miranda could not have more hype these days if he tried. While "Hamilton" is Barney Stinson-level legendary, his first musical, "In the Heights," is also iconic. With the current state of the world, Miranda's celebration of diversity could not come at a better time. Not to mention that the show's singular city neighborhood backdrop would be easily transferable for a live event.
2. "Newsies"
It could be argued that this is already happening. The stage adaptation was filmed in Los Angeles with a live studio audience and several of the original cast members, including Jeremy Jordan. Fans can expect to see it dance into theatres in February of this year. That being said, you can never have too much "Newsies." Bring on the live television version!
3. "Phantom of the Opera"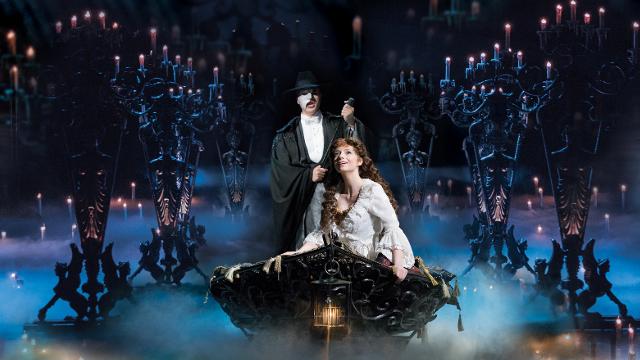 Is anyone else dying to see how they would pull this one off? "Phantom of the Opera" is known for being a visual sensation with all of its costumes and the French opera house setting. It would be ambitious for any television studio, but would set plenty of precedents if it pulled it off.
4. "Rent"
The 2005 film adaptation with many of the original cast members brought this fantastic musical to a whole new generation of theatre lovers who were too young when it first surfaced in the '90s. It's about time for another resurgence, and what better way than with a live television special?
5. "Dreamgirls"
Watching Jennifer Hudson show off her vocal chops in "Hairspray Live!" was reminiscent of seeing her in the film "Dreamgirls." Let's bring her back, shall we? This year would be made better watching Hudson reprise her role in the live musical version, belting out her jaw-dropping version of "And I Am Telling You I'm Not Going."
6. "South Pacific"
There's something so feel-good about Rodgers and Hammerstein musicals. While musicals in cities are great, there should be more set on the beach. Much like "Phantom," it would be great to see how television studios would handle producing the setting of this show on a Hollywood backlot.
7. "Memphis"
The 2010 Tony Award winner for Best Musical, "Memphis" follows a similar vein as "Hairspray," with the premise of the show surrounding integration in the music industry. The show also boasts a wide array of catchy songs and dance numbers, which make it a prime candidate for a television debut.
8. "Singin' in the Rain"
With the recent loss of Debbie Reynolds, a live television event of her most famous musical role would be a wonderful tribute. Derek Hough was already slotted to star in the upcoming stage version of this show on Broadway. After his performance in "Hairspray Live!" he would be the perfect choice for a live version of the show. Still not convinced? Check out this Gene Kelly-inspired number he did on "Dancing With the Stars."
9. "Legally Blonde"
The film version recently celebrated its 15th anniversary, and the world should celebrate by staging a live version of this hilarious Broadway show. Elle Woods is the definition of a #girlboss, and television needs her.
10. "The Light in the Piazza"
This musical has a beautiful score and is highly underrated. PBS aired a staging from Lincoln Center, and it's time to take it a step further with a live television event. Viewers will have a hard time not falling in love with the Italian setting and the budding romance between Clara and Fabrizio.
Which musicals would you like to see as live television specials? Let us know in the comments below…