Based on the film of the same name, "Groundhog Day the Musical" opened on Broadway in April. This London transfer was nominated for seven Tony Awards this season and is one of the most talked-about new shows. Though it did not win at the Tonys, it did take home Olivier Awards for Best New Musical and Best Actor, for Andy Karl's performance as Phil Connors.
Though this musical was a bit lost in the shuffle this season among fellow nominees "Dear Evan Hansen," "Come From Away" and "Natasha, Pierre and the Great Comet of 1812," this is a brilliant musical and should not be missed.
Here's what you can expect from "Groundhog Day the Musical:"
There Is a Groundhog
It sounds weird, but this person in a groundhog suit does actually show up at the perfect times and provides comedic relief when needed. And he can play the drums.
There Will Be Sun (and Repetition)
If you know anything about the "Groundhog Day" film, you know it's about a man who keeps reliving Groundhog Day over and over again. The premise worked well in the film, but you're likely wondering how well it translates to the stage.
Honestly, it works pretty well. In the musical, you not only see the same scenes with different variations over and over again, but you hear the same songs. In some cases, this can get annoying, but it's handled really well. You hear the music repeated just enough to relive a previous scene, but you never feel bashed over the head with any one particular song or scene. Even if you've already seen some version of it, every scene feels fresh and new.
Andy Karl Is a Fantastic Leading Man
As previously stated, Karl won an Olivier Award for this role. We'd also bet that if Ben Platt hadn't been in the running for the Tony Awards this past season, Karl would have snagged that trophy as well.
As soon as the show opened, unfortunately, the biggest headline about Karl's performance was all about his knee injury. Though he had to miss a few performances, all of that news subsided, and all anyone can talk about now is his amazing performance. Karl is charming and hysterical as weatherman Phil Connors, and he definitely brings a lot of dimension to a character who can be easy to dislike. The show itself is great, but Karl's performance is definitely the most memorable part of this new musical.
There Are a Ton of Stunts
There's a lot happening in this show, from the crazy ensemble numbers and the set constantly resetting itself, but the stunts in this musical must be noted. They are perhaps most present in the song "Hope," one of Karl's solos. There are no clips of this particular song, but feel free to take a listen.
It Gets a Little Dark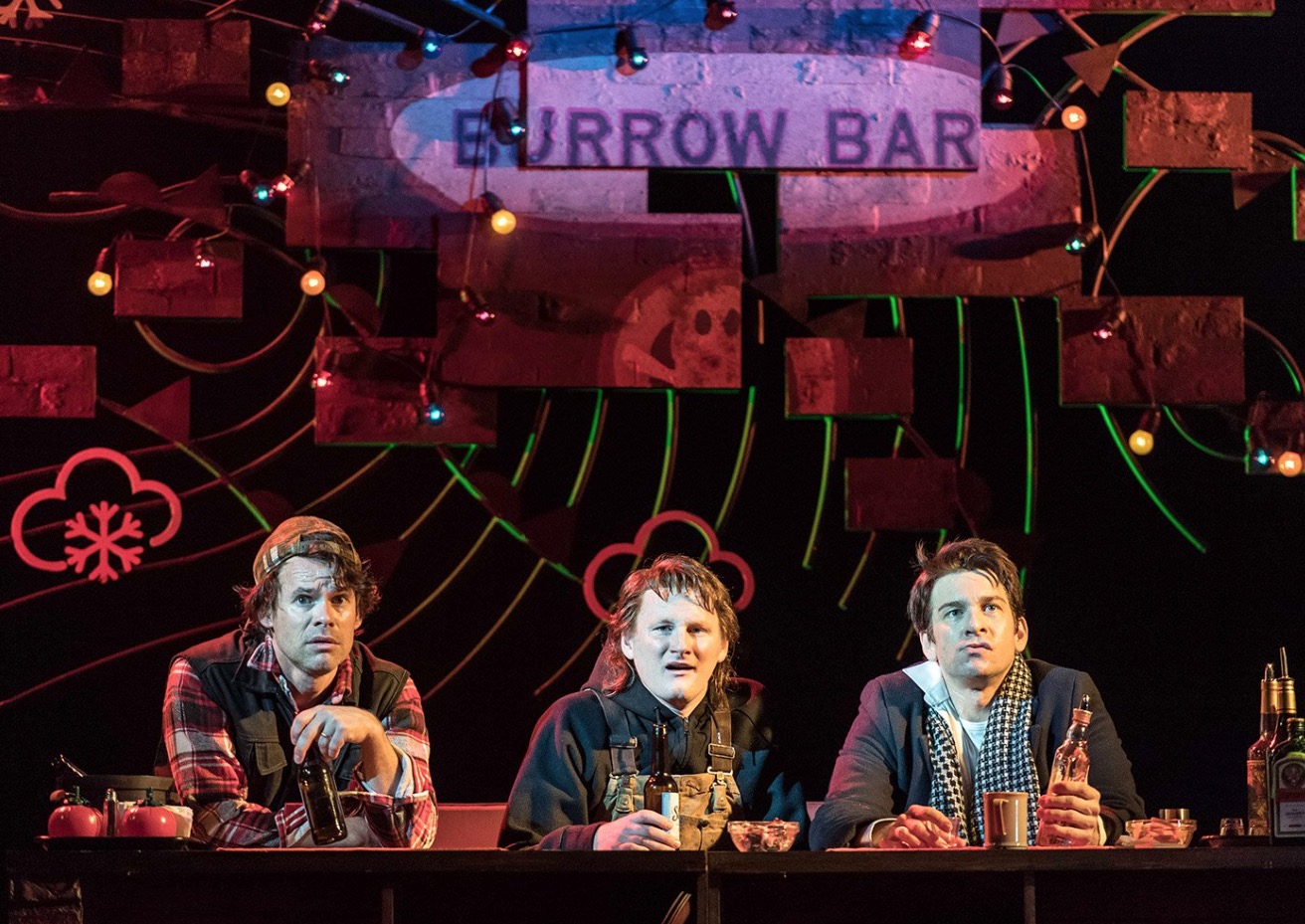 The "Groundhog Day" movie is known for being a great comedy, and though the musical is definitely filled with tons of laughs, it also gets dark at times. The whole idea of mortality and one's purpose is really pushed throughout the show. The musical does a better job at rounding out Phil Connors' inner conflicts, so it's no wonder the book was nominated for a Tony.
Tim Minchin Rocks It Again
If the name sounds familiar, it's because Tim Minchin is the musical mastermind behind "Matilda." Both shows are filled with relatable songs, great ensemble numbers and catchy tunes that will be stuck in your head long after you leave the theatre. The music is a combination of pop tunes and rock melodies, as well as funny numbers and more somber ones. Karl and Barrett Doss are given a great range to show off their skills. Overall, it's a great score for a very upbeat musical.
Have you seen "Groundhog Day" yet? What did you think? Let us know in the comments below…