One of the most hyped-up new musicals on Broadway at the moment, "Natasha, Pierre, and the Great Comet of 1812" does not disappoint. This show has seen many workshops and Off-Broadway renditions, but it finally made it to the Imperial Theatre in 2016.
With all the buzz, you may be wondering what to expect from this show. It's very difficult to describe the experience you'll have once you walk into the theatre, but we'll do our best to tell you.
Here are seven things to expect from "Natasha, Pierre, and the Great Comet of 1812."
1. A Lesson in Literature
This show is based on a 70-page section of Leo Tolstoy's "War and Peace." Prior to seeing this show, you may have only heard of this novel as being one of the longest books you could ever read. I don't think too many people thought a book like this could ever make it to the stage, as there are endless characters and multiple storylines to keep track of.
This is perhaps why the show only focuses on a very rich and intimate part of the novel. The musical only portrays a chunk of the original novel (Volume 2, Part 5, to be exact). Within this section, the innocent and engaged Natasha falls for the dashing and secretly married Anatole. There is also Pierre, an old family friend of Natasha and brother-in-law to Anatole, who is trying to find his purpose in life. Though some of the characters from the novel don't make it into the show, this musical stays fairly true to the book.
2. Do You Like "Les Mis?"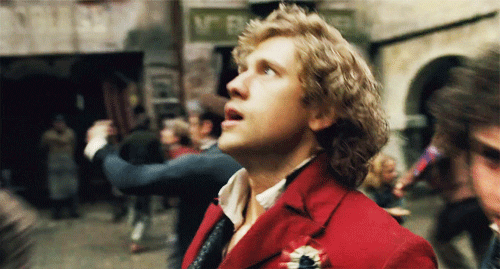 Similar to "Les Misérables," this musical is based on an epic novel and is completely sung-through. For this show, it works incredibly well. Ironically, this show is also at the Imperial Theatre, where the "Les Misérables" revival was just a couple of years ago. Because this plot has so much depth and so many characters, it was hard to imagine how it would transfer to the stage.
As Brittain Ashford (Sonya) said at the stage door when asked whether the cast was nervous about bringing this unconventional show to Broadway, she said director Rachel Chavkin had two words to say about that: "Les Mis."
3. The Freaking Set
If you are at all familiar with the Imperial Theatre, chances are you no longer are. The entire theatre has been completely transformed for this show. You can no longer see the original stage, and there are multiple ascending staircases, runways throughout the audience for actors to dance on, tables and more seating onstage to make the whole theatre feel like a Russian bar. Not to mention, all the walls are draped in red fabric and covered in old paintings to really set the mood and the time period.
Then there is the lighting. Aside from the beautiful chandeliers meant to mimic comets throughout the theatre, there are also little tables in the audience with lamps. You are totally surrounded and feel very included in the show. This is all without mentioning that there is also a rave at one point.
4. All the Fresh Faces
For about 20 members of this cast, this is their Broadway debut. Many members of the cast have been with the show for the past few years through its different Off-Broadway and Off-Off-Broadway renditions. This show features a very interesting ensemble because not only are they singing and dancing, but most of them also play instruments.
Ensemble aside, the two principal leads are also fairly new to Broadway. For Denée Benton, who just graduated from Carnegie Mellon in 2014, this is her Broadway debut. She gives a beautiful performance as Natasha. She also plays against Josh Groban, who is making his Broadway debut as well. He truly shines as Pierre, and his voice is amazing live. He also plays the piano and an accordion throughout the show.
5. The Music
The music from this show ranges from classic ballads to techno pop rave music. As previously mentioned, this whole show is sung through. I don't think there could have been another option for this plot, and the technique works beautifully. Though some of these songs are not very conventional (like the show itself), you will leave the theatre with songs and melodies playing in your head for weeks to come. Give the Act 2 opening "Letters" a listen and see for yourself.
6. Their Twitter
Finally seeing @joshgroban and the rest of the amazing cast in @GreatCometBway today!!

— Nicole Mellion (@NMellion) February 26, 2017
Just a little side note about this show's Twitter account: They will like and respond to your posts. Not only do they respond, but they reply in character with the show. See above as an example, complete with an emoji of a comet.
7. It's a Party!
When you walk out of this theatre, you will feel exhilarated but unable to fully explain this experience to another person. When you first sit down, the cast starts to interact with you and throws pastries to the audience. There is romance, a ball and even a duel. By the end of the show, you won't want it to end. There really is no show like this out right now.