The sequel to Disney's beloved 'Mary Poppins' has finally arrived and we are chim chim cheery about it. Our favorite magical nanny may have returned with a new brood of kids and lots of new tricks, but there are plenty of similarities to the classic 1964 film.

We love these 10 'Mary Poppins Returns' parallels in the most delightful way:
1. Mary's cheeky wit.
Whether she's bantering with her own reflection or acting like her supernatural tricks are totally normal, Mary Poppins is full of sass. In the original film, Mary pays the Banks family a visit after answering an unpublished "nanny advertisement" written by young Jane and Michael. When Mr. Banks is puzzled by how this ad written by his children has actually been seen, Mary makes him feel like he's the fool. In the sequel, her cleverness is just as savage as she downplays her mystical ways leaving others to feel like a talking umbrella should be an everyday occurrence. It's all part of Mary Poppins being practically perfect in every way… and we love it!
2. The animated worlds.
In 'Mary Poppins Returns', it doesn't take long for audiences to come across a cartoon clan of singing, dancing, talking animals. A bathtub transforms into a giant, bubble-filled ocean and a ceramic bowl, used for decor in the nursery, becomes a world in which the new generation of Banks children take a carriage ride to the Royal Doulton Music Hall. While the original movie's animated sidewalk-chalk world is quite literally a jolly holiday, the new iteration includes a menacing cartoon villain who teaches the children a valuable life lesson. Differences aside, the sequel pays tribute to Mary Poppins' magic and features a band of familiar tap-dancing penguins.

3. The saving of Mr. Banks.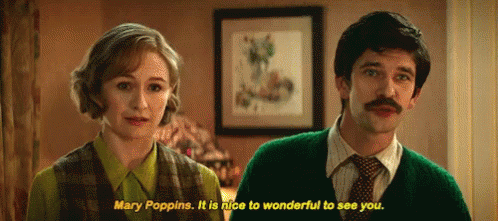 Not only is the beloved original film as sweet as a spoonful of sugar but it carries a powerful message as well. By the time Mary ventures on from the Banks family, it's pretty apparent that her real purpose was to show Jane and Michael's no-nonsense father that life is more than working for a paycheck. In the sequel we find Michael, now a father of three, drowning in bills after the passing of his wife. Once again, Mary Poppins arrives to tend to the children but ends up teaching Michael a thing or two.
4. Mary's low-key life lessons.
When it comes to fixing family issues, Mary doesn't have to do much. Her strange and sudden arrival in both movies is a catalyst for the children and their father to improve a strained relationship. Most of the time these lessons are strategically coordinated in a practically perfect way by Mary Poppins herself. 
5. The befriending of a local misfit.
First, we had Bert, the chimney sweep, and now we have Jack, a lamplighter. We may not know how Bert first encountered a magical nanny, but he's clearly savvy about Mary Poppins' unconventional methods and joins her and the children on their many adventures. Jack from 'Mary Poppins Returns' (Lin-Manuel Miranda) makes it clear that Mary was once his nanny and accompanies her and the children into imaginative worlds as well.
6. Michael Banks becoming an artist.
Remember when the adorable Michael Banks didn't want to invest his money and instead wanted to give his tuppence to the bird lady? In 'Mary Poppins Returns,' Michael is all grown up and working at his father's bank but primarily considers himself an artist. Our money is on the fact that Michael likely considers passion more important than dollar signs as his father learned this lesson in the first film.
7. Jane Banks is an advocate.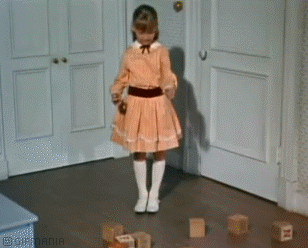 Similar to Michael mirroring his father, Jane holds similarities to the original Mrs. Banks. Her mother was a suffragette advocating for women's rights in 'Mary Poppins', and we now find Jane spearheading labor union rallies.
8. Secondary characters mirror those from the original film.
We may see similarities between Jack and Bert or the Banks children and their parents, but character foils don't stop there. Instead of kooky Uncle Albert who loves to laugh so much that he consistently floats on the ceiling, we are introduced to Mary Poppins' cousin, Topsy, whose world very literally turns upside down. Rather than the bird lady, Angela Lansbury portrays the balloon lady. Plus, Dick Van Dyke plays Mr. Dawes, the bank's director, again!
9. Mary defies the laws of English.
Mary Poppins might be prim and proper, but she doesn't have any regard for rules of the English language. In the original film, she creates new words (AKA "supercalifragilisticexpialidocious") and teaches the children the practice of nonsensical rhyming in the sequel.
10. There's a massive dance number.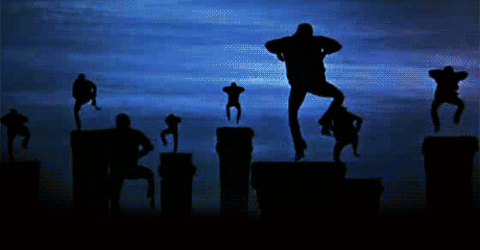 If there's one thing chimney sweeps and lamplighters are good for it's a Broadway-style dance number. Everyone knows the classic tune, "Step In Time," and it's safe to say that new generations will be humming the 'Mary Poppins Returns' version, "Trip A Little Light Fantastic." Both are big dance scenes that include a lot of Mary Poppins magic.
What did we miss? Leave a comment below…