Auditioning for a musical can be one of the most harrowing processes in the world, especially the singing portion. However, if you prepare ahead of time, it doesn't need to be scary. Here are four tips for acing your next vocal audition:
1. Choose the Right Song
For a musical audition, this is the most important call. Sometimes, casting will make it easy and assign material to sing, but more often than not, it's your decision.
If you're a veteran to the musical theatre audition circuit, you will probably have an audition book. This is a selection of songs (ranging in style) that you know well and can sing at the drop of a hat, usually kept in one overstuffed binder. It should be a varied repertoire that you really relate to. Look through it (or scour Google and music sheets if you don't have one) and find the song you think fits the style of the show you're going for. Again, be certain that you connect to your choice as a person.
Try to be wary of learning a new song, unless you have no choice. It's best that you know the material like the back of your hand so when you get in the room and your nerves kick in, you can still let your personality shine through. After all, showing your personality gives you a leg up on your competition — no one else is like you!
2. Rehearse Your Heart out
This sounds like an obvious one, but many people don't realize that to get work, you have to do a lot of work! Treat the audition like you would a performance because it's essentially a chance to do what you love. You want casting to see you at your best, so be your best.
A Broadway performer once told me that they treat all of their songs like monologues. They write them out, mark them up with objectives and even read them aloud as they would a monologue. At their core, most songs are inner monologues. People in musicals sing their thoughts because they cannot speak them. So, handling a song like a monologue can help you discover new moments.
In preparation, lots of performers will enlist a vocal coach to assist them with their audition. This is obviously costly, so try to only do this when you feel like you really need it. It's instrumental to hear the way your songs sounds on the piano and to get your teacher's feedback on your song cut. Get the most out of your time together by recording your session, if it's OK with your coach.
Sometimes it's also useful to hold a rehearsal where you imagine yourself in the room. You can set up your room in an audition format and ask a friend to watch, or simply close your eyes and envision that you are in that space. While singing, you are hopefully going to be in another world, but it truly can help to anticipate your nerves. Go ahead, try it! You'll be surprised to see how tense it can make you feel even thinking about being there. If you can curb your anxieties during that rehearsal, you'll be more comfortable and connected in the room.
3. Choose the Right Clothes
One of the biggest ways to make an impression is with your choice of clothing. You want to stand out, of course, but that doesn't mean you need to throw on a sequin top or neon-colored sneakers.
Attempt to pick an outfit that is the essence of the role. For example, if you're auditioning for "Newsies," you don't need to rent an authentic vest and pair of knickers from 1899. Show up in a nice button-down shirt. Or, let's say you're auditioning for the role of Anna in "The King and I." There's no need to run around like a maniac searching for a hoop skirt when you can simply wear a nice dress. Don't make it too hard for yourself!
Basically, you don't want to give casting any reason not to hire you. Spoon-feed it to them by wearing something that gives off the vibe of your character but is already in your closet. Ask a trusted pal for approval!
Overall, choose something that looks good and makes you feel good. And please, for their sake, don't show up in any type of costume — unless you're trying to get in the "bad audition" montage on a reality show.
4. Use the Time in the Waiting Room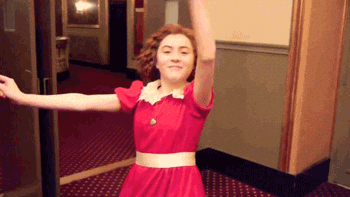 We've all been uneasily seated outside the audition room waiting for our turn. We steal glances at our fellow auditioners (who look eerily similar to ourselves), press our ears against the door to listen to them sing and stare through our sheet music, relentlessly hoping it will overtake our brains. However, wasting your time in the waiting room with stressful acts like this is detrimental to the process.
Instead, get to your audition 10 minutes before your time slot (any earlier could annoy casting, since waiting spaces are usually small and they don't want a lot of people sitting around) and loosen up. Find the bathroom, splash water on your face, do a quick vocal warm-up and, most of all, relax. The more laid-back you are, the easier your audition will be. Reading advice from a performer you admire right before you go can also be beneficial, so have it cued up on your phone!
Bonus Tip: After you go, let it go! You've done the best you can, so don't bother obsessing over the outcome. What will be will be!