After a brief, two-season run, musical comedy "Galavant" has finally taken its place among many other canceled-before-their-time TV shows sitting on the shelves of Netflix. The show follows the adventures of heralded knight Galavant as he travels with his squire, Sid, and Princess Isabella to win back the heart of Madalena, who chooses a life of fame and fortune over true love after she's kidnapped by King Richard. "Galavant" was created and written by Dan Fogelman (writer of "Crazy, Stupid, Love" and "Tangled"), with music and lyrics by Alan Menken (composer of pretty much everything…seriously, google it) and Glenn Slater ("A Bronx Tale," "Tangled," and "Sausage Party").
The show gets a little muddy plot-wise from there, as the initial villains and heroes tend to switch places more than once throughout the series (if you can believe that from a program with a grand total of eight 20-minute episodes).
Needless to say, whether you managed to catch the show while it was on the air or are sitting here wondering, "Uh…who names their kid Galavant?" this show is an absolutely perfect watch for theatre lovers. Here are five random reasons why you need to add "Galavant" to your Netflix queue immediately and furiously binge-watch it from beginning to end:
1. Its Musical Spoofs Were on Point
Though "Galavant" features all original music, it tends to borrow a couple of tricks and triads from classic musical theatre. The ditty "Dwarves vs. Giants" pits against each other two similarly sized gangs a la "Tonight" in "West Side Story," while peasants led by an overzealous Sid charge a castle to the tune of "Today We Rise," which is oddly close to "Can You Hear the People Sing?" from "Les Miserables." However, this song spends a lot more time discussing all the terrible things that will happen to them as part of their rebellion and how much they'll all regret doing so tomorrow. Theatre fans will also appreciate the love song "Finally," which gets pretty close to "Summer Nights," if "Grease" featured love-obsessed zombies instead of 1950s teenagers.
2. King Richard = The Literal Best
Launching into "Galavant," it doesn't take long for the evil king fantasy trope to melt away as you get to know King Richard, who balances his unprecipitated ruthlessness with a childlike desire to be liked and taken seriously as a king. Watching this character's transformation over the two seasons is both fascinating and utterly entertaining, and Timothy Omundson nails every second of it.
3. It Has Inexplicably Fabulous Celebrity Cameos
John Stamos might not be the first person who comes to mind when you think about medieval musicals, but he's just one of many celebs who join in on all the song and dance of "Galavant." Stamos, who plays Sir Jean Hamm, a jousting competitor with a penchant for Yo Mama jokes, and is joined by the ranks of Weird Al, who plays a monk who has taken a vow of silence (except for singing, obviously), and Ricky Gervais, who plays a spiritual guide named Xanax who helps King Richard face some truths about his past. Other guest stars include "Downton Abbey's" Hugh Bonneville playing a landlocked pirate captain and Kylie Minogue playing the sultry owner of a medieval gay bar — are you intrigued yet?
4. The Show Was Super Self-Aware
One great thing about "Galavant" is that it really played up its meta side and knew it was on the chopping block for the majority of its time on air. The fact that it got a second season surprised many people, leading to the first episode of that season to be titled "Suck It, Cancellation Bear." The first episode even began with a song with the lines, "Skip the football matches / and the globes made out of gold / Screw all those apprentices / and every bachelorette / Give into the miracle that no one thought we'd get!" Catching all the subtle digs at the network and all the pop culture references is reason enough to watch it multiple times through.
5. The Romances…and the Bromances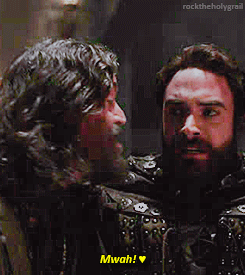 The love stories of "Galavant" don't always show off the most romantic sides of love — after all, Season 1 songs include "Maybe You're Not the Worst Thing Ever" and "Love Is Strange." But, you have to admit, there are some excellent pairings on this show, from Cook and Gwynne to Isabella and Galavant to Roberta and King Richard.
Even the villains are stupidly cute together — the notoriously stoic Gareth sings the greatest love song of all, where he describes his heart as "this chunk of my chest keeps flum-flumpin' away" and his lovesick smile as "my lip-ends, look how they twist up!" Sigh…that's the kind of love you only read about in books.
And yes, the show has plenty of beautiful bromances as well, with the budding friendship between King Richard and Galavant in Season 2 and the loyalty between Gareth and King Richard in Season 1.
Though watching "Galavant" might make you want to shake the TV screaming "WHY? WHY WERE YOU CANCELED SO SOON?!" there is hope for another iteration of the Galavant story in our favorite spot: the stage. Rumors continue to fly that "Galavant" will live on in the form of a musical, which we can only hope will come to fruition sooner rather than later. With other shows such as "Smash" morphing into concerts and musicals, it remains to be seen how this short-lived legend could continue beyond the confines of television.
Where to watch?
Stream both seasons on Netflix
or
Stream both seasons on Amazon HERE
What's your favorite Galavant moment? Leave a reply below…