So, you've just been through a breakup, and you're dealing with a lot of emotions. Letting go can be tough, but sometimes you just have to sing it out. Just like anything goes when it comes to musicals, this also applies to relationships. Luckily for Broadway fans, you can crank up the showtunes as a way to express your feelings and let it all out.
So, pull out your headphones and cry your way through these 13 songs:
P.S. Check out the entire playlist at the end of this post
1. 'There's a Fine, Fine Line' — 'Avenue Q'
"Avenue Q" has a great collection of songs that usually make you cry with laughter, but this piece is sure to make you cry your biggest, saddest tears. Everyone has experienced the fine, fine line between a relationship and friendship and the yearning you feel to be more than just a friend. For those who need to put it into words, this is a great song to let you express what the fine line is all about.
2. 'Still Hurting' — 'The Last Five Years'
One of the most heartbreaking musicals of our time, "The Last Five Years" really pulls on the heartstrings with this opening ballad. When you're going through a breakup, it's pretty easy to pretend you are OK and go on with your life. It's even harder to recognize you need time to hurt and heal. If you aren't crying out all of your feelings by the end of this one, you're doing it wrong.
3. 'On My Own' — 'Les Misérables'
Ever experienced unrequited love? Eponine can teach you a thing or two about that feeling. This song is perfect for the breakup that totally ruins you and leaves you thinking you are on your own. It helps you recognize those emotions are real and it's totally OK.
4. 'Maybe This Time' — 'Cabaret'
You have a lot of regrets and things that went wrong with your past relationship, but hey, maybe next time, things will be better. Liza Minnelli couldn't put it any better in this classic "Cabaret" song. Keep your chin up — maybe things will look up!
5. 'The Long Grift' —  'Hedwig and the Angry Inch'
There's nothing like singing your sorrows away while wailing on a little guitar. This song will have you feeling the rock power you need to get over that terrible gigolo, anyway. Embrace your inner rocker (high boots and sparkly eyeshadow included) and sing your feelings all out.
6. 'I'm Gonna Wash That Man Right Outa My Hair' — 'South Pacific'
So, maybe you are done with the crying stage and are so ready to move on. This song is sure to help you move past the relationship BS and start fresh. Just like washing your hair, you can rinse all those feelings away and have a clean outlook.
7. 'So Much Better' — 'Legally Blonde'
No one wants to be that person that mopes around after a relationship, just like no one wants to break up with their long-term partner after a romantic night when they think they're getting proposed to! Don't worry about moping around, and be better than they ever thought you could be. Elle knows best — you are so much better than that!
8. 'Take Me or Leave Me' — 'Rent'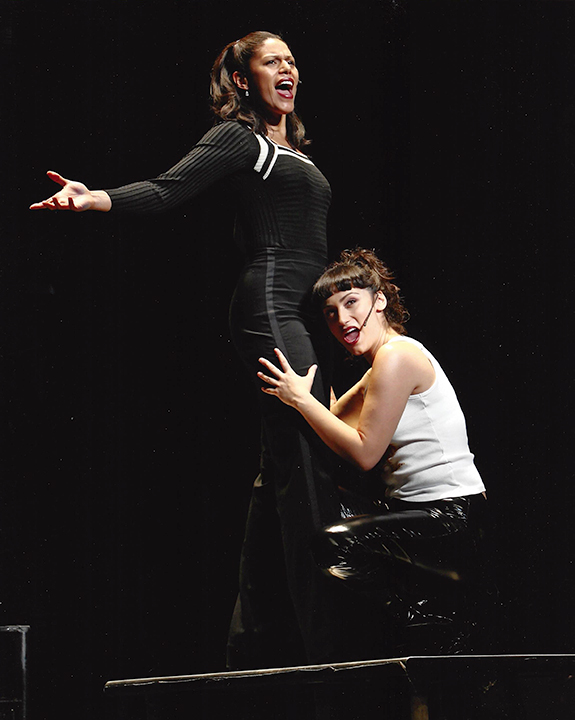 We all have our quirks. Sometimes even your partner can't handle who you really are or even accept it. Post-breakup you may realize they maybe just couldn't handle all of you, and that's fine. "Take Me or Leave Me" is the song that helps you embrace who you are and learn to walk away when it's not the right fit.
9. 'We Do Not Belong Together' — 'Sunday in the Park with George'
We all reach a point where we know things aren't meant to be and that's just the way it is. This song from a classic Sondheim musical help you realize the imperfections and get over things.
10. 'Burn' — 'Hamilton'
Getting cheated on by a partner is tragic. Fortunately, you have tragic "Hamilton" songs to help you deal with the cheater in your life. It's time to sing along and burn those love letters (or delete those texts) that remind you of your ex.
11. 'I Don't Care Much' — 'Cabaret'
Alan Cumming couldn't have sung it better. Stay or go, you are going to be just fine without that person in your life. You could care less, go or stay!
12. 'I'm Not That Girl' — 'Wicked'
Perhaps you are at the point of the breakup where reality has set in. You aren't the type to usually get caught in romantic whims, so you need a little reminder that you are strong. You aren't going to lose sight of yourself in the relationship, and Idina can help you sing your way back into confidence again.
13. 'The Sadder-But-Wiser Girl' — 'The Music Man'
Yeah, you can admit it — breakups suck, and you are allowed to be sad. But ultimately, you learn a lot from a failed relationship. You learn about yourself and what you're looking for in a partner. Though you may be a bit sad, you are that much stronger for it!
Let us know your favorite Broadway breakup songs in the comments below…