Roll call! NBC's "Hairspray Live!" is just days away, set to grace our TV sets on Dec. 7 at 8 p.m. EST, but you probably already knew that. We've blown out our eardrums listening to the pre-released soundtrack on repeat, too.
Live TV musicals have become holidays for us theatre nerds, putting an extra beat in our step on the sacred broadcast date. Of course, like all good holidays, it's only natural to want to get festive.
So, here are some tips for throwing an ultra-clutch "Hairspray Live!" viewing party for you and the nicest kids in town from me, Kristin Chenoweth and more "Hairspray Live!" stars!
1. The Nicest Setting in Town!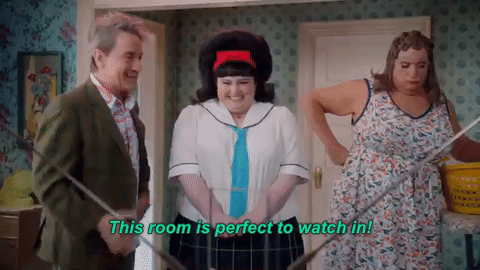 Although it would be ideal to watch on the Universal lot itself, we'll take what we can get. Whether you plan to congregate with fellow thespians or it's just you and a tub of Nutella on the couch (solid choice), it's imperative that you have a prime environment to watch. After all, it's only going to be live once!
Garrett Clayton (Link Larkin) told us, "You need a space to dance during the show. Push the couches to the walls and dance with us during the show. Make sure to get some strong hairspray so you don't mess up your hair while dancing lol." Good thinking, Garrett!
Marissa Heart (Tammy) agreed, telling us, "I think for the best and most awesome viewing party, you'll need to have a place to dance and sing along with us!"
If you are viewing at home, make sure you warn all the non-theatre nerds in the house about what's about to go down. Call dibs on the biggest TV, and let everyone know they're expected to stay quiet unless they're singing along or it's a commercial break.
However, be sure to do your research, since many cities are holding "Hairspray Live!" viewing parties at local theatres. And, if you're really dedicated, you might want to spend the night in the city that inspired the story: Baltimore. Here are some great "Hairspray" hotel packages.
2. Snacks and Refreshments
"Thespian" is pretty much synonymous with "foodie," so you'll understand when I say that snacks are probably the most important aspect of the night. You're going to want to get creative and go crazy in the kitchen, so why not take off work or school for the day? After all, skipping out worked for Tracy!
When we asked the one-and-only Kristin Chenoweth (Velma Von Tussle) to weigh in, she said the ultimate "Hairspray Live!" viewing party menu included "Velma Von Truffle fries, Crown cookies, Miss Baltimore Crabcakes, Chicken and waffles, Penne Pingleton and Wilburgers."
Heart had the same train of thought as Chenoweth, urging audiences to "set up a 'Hairspray'-themed snack table (I'd say pizza, popcorn and nachos) and, of course, festive drinks!"
And, Christine Danelson (who earned rave reviews as Tracy Turnblad in both the national tour and Paper Mill Playhouse productions), said, "Obviously, pink donuts!"
Here are some more snack ideas:
For '60s-themed noms, we suggest lots of chips and dips, deviled eggs, jello and, obviously, bowls of popcorn. If you want to be authentic, here are

10 recipes that defined the '60s

.

Check out these delectable-looking Tracy cookies from

TheLittleCookieShop

.
Don't "The Corny Collins" and "Spraytini" sound good? Here are some

deliciously themed drinks

from none other than Baltimore! (21 and up only, kids).

Penny Pingleton would probably suggest you get some bubble gum, too!
3. Decorations and Costumes
What is a viewing party without decorations and costumes? The show is set in the '60s, so if you're stuck for decoration ideas, peruse good old Party City for some inspiration.
You can also provide your guests with Silly String, since it's more fun (and practical) than giving everyone a can of hairspray. Spray it throughout the show, or just every time Jennifer Hudson belts a crazy-high note.
According to Heart, you'll need your best 1960s get-up to get in the musical mood. You can have your attendees wear wigs — or just put one on yourself and your cat. This "'60s Princess Wig" (wink, wink) does the trick. The bigger, the better!
Marissa Heart on set with her Hairspray Live! cast via Instagram.
4. Behind-the-Scenes Pre-Show
Thank the theatre gods! Chenoweth and Sean Hayes ("Promises, Promises" reunion, anyone?) are set to host the "Countdown to 'Hairspray Live!'" special at 7:30 p.m., a mere half an hour before the show.
According to Broadway World, "the special will take viewers on a guided tour of everything involved in putting together NBC's highly anticipated telecast … beginning with the first open casting call to the final rehearsal. Viewers will experience never-before-seen access to 'Hairspray Live!' from set and costume design to choreography and rehearsals with the cast, as well as a final look at the last-minute preparations before the 8 p.m. EST live broadcast."
5. Join the Conversation
You're obviously going to want to keep your talking to a minimum during the show, but that doesn't mean you can't silently browse social media. Live-tweeting events have become one of America's favorite pastimes, so have your fingers ready to type out some posts. Perhaps the official "Hairspray Live!" Twitter account will even throw you a retweet. 
One tweeter to watch is Laura Benanti, who has starred in an NBC Live! musical herself and is known for tweeting during big events. If her hilarity and puns are not enough to lure you to her feed during the broadcast, then definitely go for her show review!
SURPRISE! I'M TOTO! #TheWizLive

— Laura Benanti (@LauraBenanti) December 4, 2015
Every time I hear the music, I feel the movement still in my body and am reminded of how much I love Tracy Turnblad

-Marissa Perry
It's also OK if you need to let out some sobs during the show. Marissa Perry (who starred as Tracy Turnblad on Broadway) told us that she's probably going to feel all the emotions.
"Every time I hear the music, I feel the movement still in my body and am reminded of how much I love Tracy Turnblad," she said. "Whether it's a community theatre or a professional version or re-watching either movie, it always ends up being a very emotional experience. So for me, what's essential for viewing on the 7th is KLEENEX!!!!"
Video via Instagram.
Mason Trueblood (Fender) got heartfelt, too, telling us "I believe when we air on Dec. 7, the show will be permeated with the joy, the love and the hope of all the fine artists involved, and the audience will finally get to see what we've been feeling since Day 1: pure joy!"
In all honesty, there's no right or wrong when it comes to throwing a viewing party, but by following these tips, you can make sure you'll have plenty of fun — and then go run and tell that!
What are your plans for your "Hairspray Live!" viewing experience? Are you throwing a party or celebrating solo? Let us know in the comments!