It's easy to be cynical about Valentine's Day, especially for the single folk out there. However, unlike years past, the arrival of February and Valentine Fest should be heralded — quite frankly, the world could use a little more love these days.
The film "Love Actually" puts it best in the famous opening speech given by Hugh Grant: "General opinion's starting to make out that we live in a world of hatred and greed, but I don't see that. It seems to me that love is everywhere. Often it's not particularly dignified or newsworthy, but it's always there — fathers and sons, mothers and daughters, husbands and wives, boyfriends, girlfriends, old friends."
So, why not use this Valentine's Day to spread the love to the special people in your life? And where better to look for inspiration than Broadway? Here are eight ideas for a musical-inspired Valentine's Day:
1. Tell Your Story
The Beast had it right when he gifted Belle a library in an attempt to win her over in the stage adaptation of the Disney classic "Beauty and the Beast." But not all of us have an unused library lying around.
Instead, take a page from Beast's book and write your story. Create a book telling the story of your love, be it romantic friendship or familial love. Include photos or even create your own illustrations if you are a gifted artist.
If you have a bit of money to spend, plenty of photo-book websites will provide beautiful templates that you can use as the basis for your book, You can add text and photos and end up with an impressive hardcover gift for your loved one.
2. Fight for a Cause
It wasn't just Tracy Turnblad's dancing that caught Link's eye in "Hairspray." Her passion for integration and equal rights for all lit the spark of their love while also strengthening her relationships with her friends and family. It's a full-circle love story you can easily recreate.
Light your own spark by fighting for a cause. Maybe you're passionate about animals, the environment or eradicating homelessness. Whatever your cause of choice, get out there and make a difference together. Make a donation in your loved one's name or volunteer together in support of an organization. Grow your love while spreading love to those in need.
3. Music in the Key of Love
Get inspired by the Phantom and have a song written for your loved one à la "Phantom of the Opera." The bride's musically talented brother and father recently did this at a wedding I attended, and the entire reception was in tears after the performance.
Not as musically inclined as Roger from "Rent?" Find a friend or hire a musician to help with your creation. Or, why not express yourself through the songs of others, like Huey and Felicia in "Memphis," by making your loved one an exclusive music mix? Craft a meaningful playlist, or even kick it old school with a CD or cassette tape.
4. The Lost Art of Letter Writing
Hamilton wrote his way into Eliza's heart and the hearts of a nation. Write your loved one a letter telling them how much their presence in your life means. Grab some fancy stationery and your best pen and let history inspire your words. For ideas, check out Hamilton's Letters on the National Archives website or those of other greats in the anthology "Love Letters of Great Men."
5. Back in Time
In an effort to remind her she is loved, Benny takes Nina on a retrospective of the magical moments they've experienced in their neighborhood in the musical "In the Heights." Plan your own throwback and take a tour of your story. Visit all the important locations in your relationship and friendship and relive the memories together.
6. Baked With Love
If you are a culinary whiz, find inspiration in "Waitress" heroine Jenna. Try baking your loved one something special (Pinterest is overflowing with recipe ideas). Even better, spend time together in the kitchen making a special meal or attend a cooking class and learn how to make something new together.
7. Dance the Night Away
Every musical needs a good dance number. It's through dance lessons that Baby finds romance with Johnny and manages to unite everyone in love and friendship in the stage adaptation of "Dirty Dancing."
Check out your city's online listings and see what kinds of classes are offered. Be it a sexy tango lesson with your significant other or a fun Beyoncé-inspired hip-hop class with your friends, it will be the valen-time of your life. See what I did there?
8. Come Fly With Me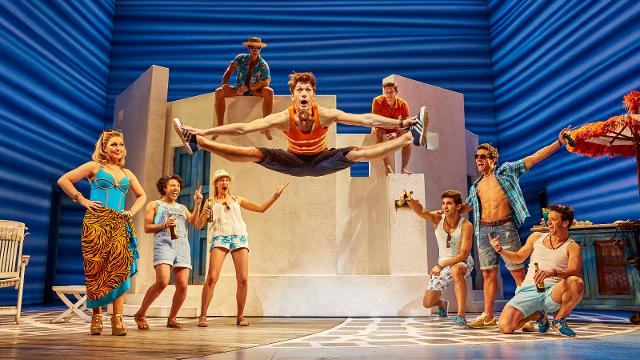 There's plenty of love to go around on the Greek Island Kalokairi in "Mamma Mia." And if "The Bachelor" has proven anything, it's that it's difficult not to love someone while on vacation. A trip can be a great way to spend meaningful time together this Valentine's Day.
Short on cash? Take a staycation where you live. Check out the local attractions, visit that restaurant you've always wanted to try, get pampered with a manicure or enjoy the natural beauty of the landscape.
Most important, remember that love comes in many forms, so be on the lookout for ways to spread the love this month. In the words of the genius Lin-Manuel Miranda, "Fill the world with music, love and pride."
How are you planning to show the love this Valentine's Day? How has the theatre inspired you? Let us know in the comments below!