Television's fictional theatergoers live anywhere from the Big Apple to Stars Hollow. Like us, these performing arts aficionados can get a little nerdy when it comes to discussing shows or trying to make a successful career in the industry.
Here are seven TV characters who are totally theatre nerds:
1. Titus Andromedon ("The Unbreakable Kimmy Schmidt")
This aspiring Broadway actor is one of TV's nerdiest theatre gurus. Kim's best friend moved to New York in hopes of making it big on the Great White Way. While auditioning, he hones his craft — and pays his rent — singing as "Frankenwolf" at a horror-themed restaurant. So far, he's composed an original song, "Pinot Noir," and workshopped his musical, "Kimono You Didn't: Murasaki's Journey." Let's hope the Netflix gods give us the chance to see where Titus's career goes next.
2. Joey Tribbiani ("Friends")
This iconic friend has become a staple for the plight of a young actor in the big city. Though Joey (or, should we say Dr. Ramoray) finds a career on the small screen, he digs into his theatrical roots as well. In Season 3, the gang supports him in his play, "Boxing Day." While TV and film might be his calling, we'll consider him an honorary theatre nerd.
3. Miss Patty ("Gilmore Girls")
Star Hollow's beloved dance teacher is one of "Gilmore Girls'" biggest theatre fans. Though there are plenty of nerdy references by a number of characters throughout the show, Miss Patty seems to channel her inner Patti LuPone when running her studio. Though the details of her past are unclear, she often mentions a successful career as a singer and dancer. We believe it!
4. Rachel Berry ("Glee")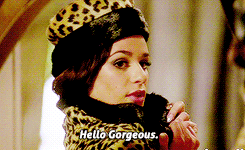 From Day 1, the McKinley High Glee Club had a diva on its hands. When we first met Rachel Berry, she was busy uploading videos of her showtune renditions. By the series finale, she had sung everything from "Evita" to "West Side Story" and starred in the revival of "Funny Girl" on Broadway. Her classmates may have called her a gleek, but we consider her more of a theatre nerd.
5. Cameron Tucker ("Modern Family")
Like every modern family, the Pritchett clan has its own theatre-obsessed kin. Mitchell's husband, Cam, is #goals when it comes to a healthy appreciation for all things drama. He loves musicals, plays, acting, singing and paying homage to theatre whenever he can.
6. Winston ("New Girl")
Though overlooked at times among his roommates, Winston Bishop has a bit of a dramatic flair. Jess and Schmidt might be the type to gab about Webber's best show, but Winston seems to strongly appreciate the arts — and the musical "Wicked" in particular. His car jam sesh to "Popular" and "Defying Gravity" is way too relatable.
7. Andy Bernard ("The Office")
Dunder Mifflin's Scranton branch employed a number of memorable characters, and "The Nard Dog" was certainly the most theatre savvy of the bunch. In addition to freely making Broadway references to his less-cultured cohorts and serenading his crush with "Take a Chance on Me" from "Mamma Mia!" Andy starred in the community production of "Sweeney Todd." He's likely one of TV's biggest theatre nerds yet.
Do you have a favorite fictional theatre nerd? Tell us in the comments below…